Indulge your senses at The Leea Spa! The name Leea comes from the Leea flower which is found on most of the nature trails in Balesin. Whether it's a body scrub, a massage, or a foot spa, our well-trained therapists provide guests with the pampering they deserve. The Spa offers massages, and body treatments in your own private suite equipped with an outdoor shower and a pocket garden. Located in the center of the 10 single-detached spa suites is a 30-meter long black pool.
Before starting your session, go for an invigorating dip in the pool or detoxify in the sauna. You can choose from couples or individual spa suites, or even have your massage in one of our beachside cabanas. Try the Balesin Signature massage!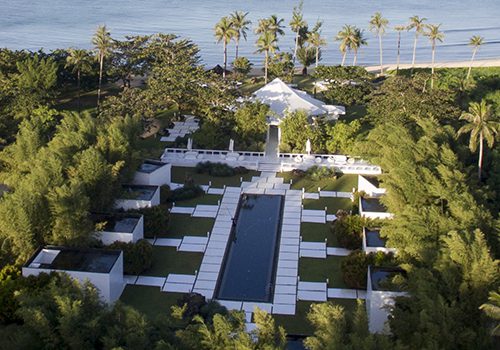 Open daily from 10:00 AM – 10:00 PM

(Last appointment at 9:00 PM)
ISLAND SIGNATURE MASSAGES
Balesin Signature
Warmed, hollow, organically treated bamboo canes relax your body, preparing it for a deep, kneading massage. Set your mind free and be filled with serenity with this massage that's unique to The Leea Spa.
Balesin Balance
This massage brings together elements of the classic western and Lomi massages while using the therapeutic qualities of massage oils and a stretching routine. It restores vital energy and relaxes the body using firm but gentle pressure to restore balance, the Balesin way.
Island Hot Stone
This specialty massage uses volcanic healing stones to warm up tight muscles. Combined with all the benefits of thermotherapy and gliding massage strokes, it eases muscle tension and reinvigorates the body.
Full-body Scrub With Massage
A massage combined with a full-body exfoliating scrub that removes the toughest grime and toxins, leaving your body cleansed and invigorated. This treatment allows your skin to absorb moisture better, clears your pores, and eliminates dead skin cells.
Dagdagay Foot Therapy
Dagdagay is a traditional Filipino foot massage (part of hilot), characterized by the use of bamboo sticks in the application of pressure in acupoints. This treatment releases tension and stimulates relaxation, while scrubbing away corns, calluses, and rough and flaky skin. You will leave this therapy relaxed, with your feet feeling baby-soft and smooth.
Aromatherapy Massage
Aromatherapy incorporates the use of your chosen scented essential oil into your massage. You can choose the specific blend to be applied, depending on your needs at the moment. Not only will your body benefit from the direct contact with the essential oil, but the oils will apply their specific healing properties upon inhalation even after exposure.
Bergamot: lowers stress levels and inflammation; diminishes skin sensitivities
Ginger: boosts focus and muscle relief; renews skin radiance
Basil: energizes and uplifts your mood; soothes headaches, relieves respiratory discomforts
Eucalyptus: soothes, decongests, and relieves respiratory issues and muscle aches; enhances mental clarity
Shiatsu Body Massage
Shiatsu translates as "finger pressure"–although therapists today also use palms, elbows, and sometimes feet–to apply pressure along energy paths to relieve pain and tension in the body. Originating in Japan, Shiatsu is a modified form of acupressure and a dry massage that reduces tension and fatigue by improving blood and lymphatic circulation.
Swedish Body Massage
This is the classic go-to massage after a long day where massage oil is used along with kneading, rolling, and vibration motions. Your masseuse manipulates your muscles, tendons, ligaments, and blood vessels using strokes that flow toward your heart, thus improving blood circulation. This massage is a mood booster, a nerve stimulator, and a tension reliever. Truly a perfect choice for overall wellness!
Combination Body Massage
This therapy combines the techniques of shiatsu and Swedish massage, merged into a single session. You will experience the Swedish's long, kneading strokes applied with the rhythmic tapping and movement of the joints, along with the shiatsu's application of direct pressure on different parts of the body. This well-structured process results in optimum relaxation, tension release, pain relief, and energy flow throughout your body.
Relaxation Massage
Your choice of a quick 30-minute massage: either a Shiatsu or a Swedish massage, in your preferred area: your back, your legs, or your neck and shoulders.
Foot Massage
Conventional foot massage that manipulates the superficial and deeper layers of muscle and connective tissues of the feet. This therapy results in whole-body relaxation, helping you to sleep better and improving circulation.
To ensure that all of our spa guests are able to receive treatment in a timely manner, we ask that you provide at least 24 hours' notice if you need to change, reschedule, or cancel your appointment
Our special Aromatherapy Oils may be used during your treatment for an additional charge of Php 200