Our son's insanely fun wedding in incomparable Balesin
07/01/2018 | By: Tessa Prieto-Valdes, Inquirer Lifestyle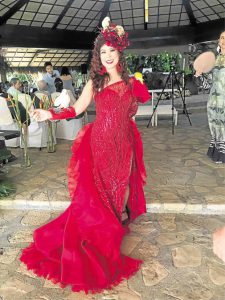 Without a doubt, destination weddings are romantic, unique and truly memorable, especially when the locations are exotic and faraway islands.

With over 7,000 islands to choose from, the Philippines is one of the best places to have an unforgettable beach wedding. For their insanely fun, intimate wedding, our son Bryan Prieto and Tinkay Soler Crespo chose the incomparable Balesin.

Described as a destination of unmatched natural beauty located off the eastern coast of Luzon, Balesin Island Club (www.balesin.com) is Alphaland Corp.'s flagship project, a 500-hectare tropical island paradise ringed by over 7 kilometers of pristine, white-sand beaches.

The club has its own 1.55 km-long concrete airstrip, and is just a 20-minute flight from Manila using one of Alphaland's private fleet of airplanes.

Bryan and Tinkay loved the months-long planning process for their wedding, involving a few island visits to make sure everything would be perfect.

June weather can be unpredictable, but the reverse weather patterns of our eastern seaboard prevailed and the couple had a sunny wedding day, exactly the generous sprinkle of love and sunshine every wedding needs.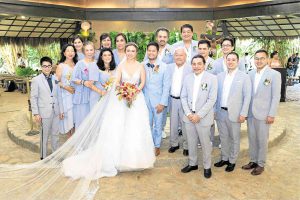 Tessa Alindogan, Pixie Rufino, Sallie Lopez,
Mary de Leon, Myda Prieto, Sandy Prieto-Romualdez,
Bon Soler, bride Tinkay Soler Crespo, groom Bryan Prieto,
Philip Romualdez, Roberto Ongpin, Alex Lopez,
Jaco Soler, Carlo Tanseco, Chun-Chi Soler,
Raymond Rufino, Jasen Ko
Great speeches

The three-day wedding weekend with just family and close friends was marked with great speeches and a lot of dancing, plus loads of The Botanist Gin, generously arranged for the couple by Sunny Ku of Mastermind Asia.

Roberto V. Ongpin a.k.a. RVO, Alphaland chair and one of the principal sponsors, hosted an all-white, welcome cocktail party at his newly built Private Villa on the first night of the festivities.

During cocktails, the island's Prince of Broadway Jon Joven serenaded the guests. It was a night to remember as the mother of the groom, aka Sea Princess, hosted the program that ended with all-night dancing, thanks to DJ Jennifer Lee's mixes.

On the auspicious day, the couple exchanged vows at the Balesin Chapel amid a splash of tropical bloom colors. Officiated by Fr. Ely Santos, the solemn ceremony was so touching as the couple recited their personal vows to each other.

Tinkay was glorious in her wedding gown by Patricia Santos, while Bryan's outfit was by Randy Ortiz. The theme was tropical, with vibrant sunset colors incorporated into all the designs by Norman and Mye Cruz of Adworks, from invitations, bag giveaways and entourage outfits to shoes, fans, the missalette and more.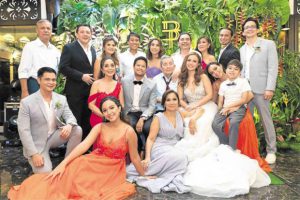 Crespo family: (back row) Ed Crespo, Anki Soler,
Rica Concepcion, Nate and Ana Alquiros,
Jaco and Cookie Soler, Paolo Soler,
Chun-Chi Soler; Carlo Tanseco, Jo-ann Soler,
Bryan Prieto, Ricky Soler, Tinkay Crespo-Prieto,
Isa Crespo, Lucas Crespo;
(foreground) Ally Crespo, Bon Soler

Different birds from the Balesin Aviary delighted the guests before and after the ceremony. Good friend and Balesin Island member Pinky Tobiano arranged for Bonnie the bird keeper to bring all the birds to the chapel.
The wedding ceremony was followed by a jubilant reception at The Balesin Royal Villa. Touching speeches alternated with various performances by the families made the evening so enjoyable.
The dancing started with father of the bride Ed Crespo and his daughter, followed by a hip-hop dance by Bryan and me. After us, the SubProjekt Band got everyone on the dance floor.
Energetic couple
The energetic couple pushed the celebration into the wee hours at Costa del Sol village's Music Lounge. Indeed it was a fun-filled weekend celebration of love. Bryan and Tinkay's wedding is definitely one for the books!
Our family is actually back in Balesin today, celebrating the birthday of my hubby Dennis. It's a cool contrast to the busy wedding weekend, with just our family around, which gives us a chance to rediscover the privacy and intimacy of the island.
When RVO and Alphaland developed Balesin, they built seven themed villages, each inspired by a world-renowned destination. Over the years we've traveled the world without leaving the Philippines, staying in the Euro villages, Mykonos, Toscana, St. Tropez and Costa del Sol, and also in the Asian villages, Bali, Phuket and Balesin.
For this weekend, Dennis asked to stay in Balesin Village and we are staying in the original villa that RVO himself occupied for over six years as he worked on the island. The boss has moved into a private villa, one of several he has built on the island to accommodate the more privacy-inclined guests.
There are eight-bedroom and four-bedroom private villas, both designed in a Pan-Asian architectural style. These are slightly smaller versions of the Balesin Royal Villa that has proven to be a major guest request, and each private villa has a unique charm of its own, all with a private slice of beach and a stunning, sunset view on Lamon Bay. They are the perfect venue for families and groups of friends to relax and reconnect in low-key luxury, and in even more privacy than usual.
Alphaland has also continued adding to the attractions on the island. The new Balesin Playground is perfect for younger kids and is right beside the Aquatics Center, while the Pony Paddock continues to offer horseback rides to members and guests.
The latest restaurant addition is Mark's Steakhouse, just opened in the Balesin Clubhouse.
Named after executive chef Mark Biddle, the steakhouse is a ranch-inspired locale, with booth-style tables perfect for family lunches, dinners and intimate gatherings. It's perfect for a quick burger lunch, but for Dennis' birthday dinner, he might opt for a super huge USDA-certified Angus Beef Tomahawk Steak.
There are now so many restaurants on the island that I've lost count. The notable missing cuisine is Chinese, but I wouldn't be surprised if a grand one were to open soon. I'm sure RVO is just planning how to deliver one that will be as excellent as all the rest of the amenities on the island.
For info on membership and how to visit Balesin, call Evans Ramos at 09171249459 or e-mail
meramos@alphaland.com.ph
.
Follow @seaprincess888 on Instagram for more wedding photos.
Link:
https://lifestyle.inquirer.net/298931/sons-insanely-fun-wedding-incomparable-balesin/