Babes and Babot Oreta raise the bar for wedding anniversary celebrations
07/13/2013 | By: Tessa Prieto-Valdes, Philippine Daily Inquirer
What is the best way to celebrate a wedding anniversary?

Lots of couples try to come up with unique and memorable ways, especially when milestone years are involved. Well, the bar has just been set pretty high by Babes and Babot Oreta, who decided to celebrate their 40th anniversary by sponsoring a mass wedding for 31 other deserving couples.

And as if that act of community support wasn't spectacular enough, throw in holding the event on Balesin Island while transforming the entire resort into a remake of that '70s TV show, "Fantasy Island." And as if that act of unbridled fun wasn't exciting enough, throw in having Vice President Jejomar Binay himself as wedding principal sponsor and anniversary party guest.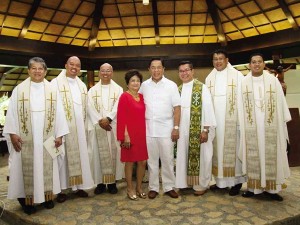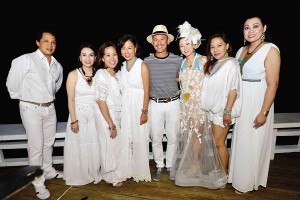 And that's when we begin to understand how a bar can be set so high, we have to come up with the term "di na maabot."

Weekend festivities

The weekend festivities started with sunset cocktails at Balesin's Nusa Dua Bar in Bali Village, one of seven themed villages spread out over the island's 500 hectares. It's as if an island half the size of Boracay was developed, but this time with its own airport, proper sewage and water facilities, and restricted development to ensure long-term sustainability.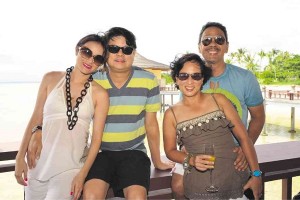 After the early guests had imbibed the vibe with a few cocktails, the party moved on to the newly opened Costa del Sol village. The Spanish-theme bar overlooks a beach cove that frames two long pools, one filled with freshwater and the other seawater—perhaps for those who want the ocean experience sans the sand. As with the other villages, Costa del Sol has around 50 suites scattered around, all designed by architect Rico Sison and interior decorator Monica Olbes.

The Oreta bash featured exceptional Spanish food of paella, cochinillo and a variety of tapas. My own personal favorite was the mussels in a cream sauce prepared by chef Robert Lilja.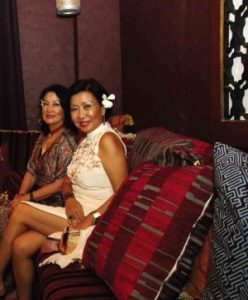 Sunday morning started bright and early, with the 31 couples occupying Balesin's interfaith chapel, led by VP Binay, accompanied by his immediate family—Dr. Binay, Senator Nancy and Mayor Jun-Jun. All the couples were local residents on the island who had been unable to solemnize their unions due to the remoteness and economic hardships on the island.

It was touching that Babes and Babot had the community's social fabric in mind as they themselves celebrated their milestone. As Babes said to me, "If only there were more couples on the island, we might have had 40 couples wed on our anniversary."

Perfect Place

ince Babes and Babot were celebrating that weekend, my hubby Dennis and I decided to sneak in a party of our own that Sunday night. I decided it would be a perfect place for his 52nd birthday party.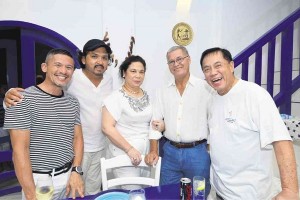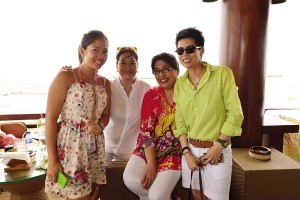 Mye Cruz of Adworks Graphics produced a wonderful invitation, around a passport and Greek island theme. Master photographer Marty Ilagan (www.facebook.com/mri.images) and videographer Emir Bautista covered the events and took beautiful photos of the island as well.

Logistics were a breeze thanks to the Balesin Island team, principally Joanna Duarte and Debbie Ledesma, who was incomparable in fixing flights and villa arrangements. Balesin's new general manager Rene Verhulst was in and around all weekend, making sure everything was great. The Dutch national has been living in Asia for many years and has managed several major resorts.

Dennis and I debated where to start the weekend festivities. He wanted to go wakeboarding with his nephew Luca Romualdez, while I decided to start with a yoga session at Balesin Spa. Yoga Plus owners Dinah Salonga, Neil and Dina Salang organized the class with old and new yogis. We enjoyed the poses facing the beach under the shady trees. Dinah told me about their new branch, Yoga Plus Makati, at Cambridge Center Bldg., 3/F, Tordesillas St., Salcedo Village. Visit www.yogaplus.ph for details.

Floral mode

As in life, we go apart but meet up again, this time for lunch with all the other guests at Nusa Dua Bar. This bar is built over the sea and therefore has an ambience that is unique and can best be described as "party."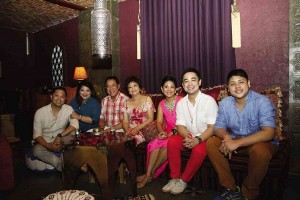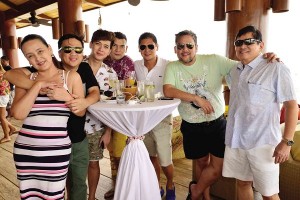 Everyone was in floral mode, so I gave out prizes from Zen Zest and Watsons to the best attired. Among the winners were all my Assumption Batch '81 classmates, including Jojo Ongsiako and Popsie Gamboa. Special mention must go to classmate Rosette Gana, who is married to Dennis' classmate Joey Benedicto.

Also, there was classmate Marichu Alcasid, accompanied by her siblings Tony and Gigi, and the most famous of them, Ogie. Unfortunately, Regine was unavailable for the weekend.

After lunch, the more active guests and my kids enjoyed biking around the island. There are over 60 mountain bikes all around, and most took off to the Sports Center, where they could do airsoft or rock-climbing, or any of the more traditional sports like tennis and badminton. A few opted to go horseback-riding.

Dennis and I decided to do something together, so we went for a kilometer-long swim right off the bar. After such exertion, there's nothing better than to get a quick massage at the spa.

Main dinner

The main dinner party was a Greek-themed affair at the Mykonos Village, which has a Cove Deck built over the water and is surrounded by rocky cliffs and windswept trees. Once again, it's a vibe that's hard to find anywhere in the world, except perhaps in Greece itself.

Among the all-in-white robed guests were Salon Privat owner Digzy and Carlo Umali. They enjoyed the island tremendously that they immediately bought a membership. I must remember to plan more parties on the island!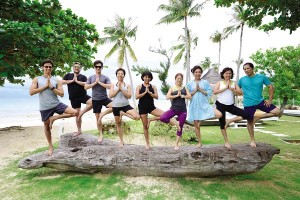 It's really an anticlimactic denouement to leave the island. Gladly, all the logistics are painless. The airport is only 10 minutes away from even the farthest point on the island, and I only need to get to the airport 10 minutes before the flight. There on the runway is our Dornier 328, a 31-seater that is the resort fleet's fourth plane. After a 30-minute flight, we are all-too-soon back in Manila.

Quite a weekend, but now I know the best way to celebrate a wedding anniversary! I can hardly wait for our next one!