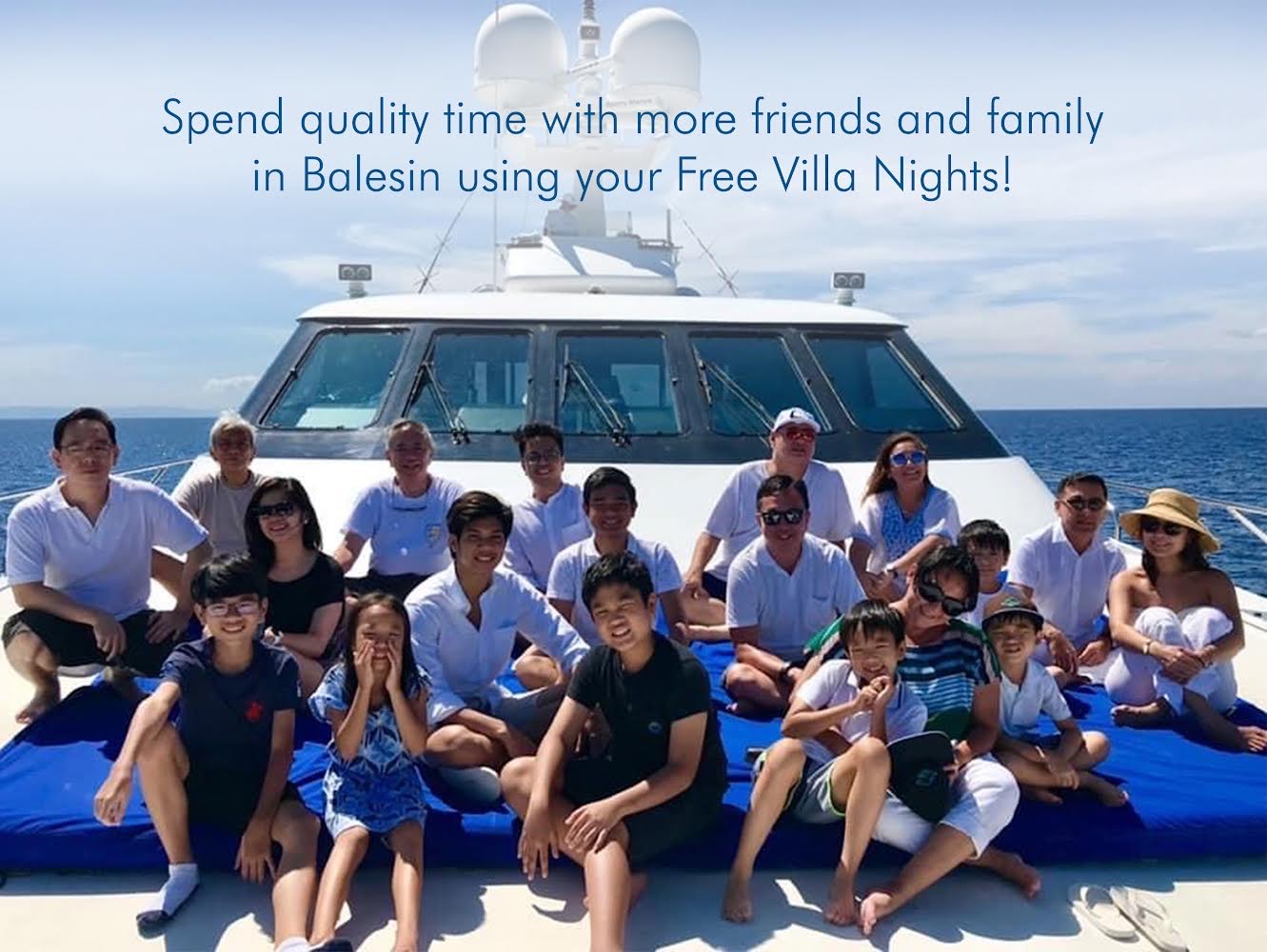 Good news! Free Villa Nights for more friends & family
September 4, 2023
To Members:
As you may have heard, your new Club management has started to make improvements to our beloved island. But don't take our word for it, see them for yourself and bring more of your friends and family to Balesin Island Club using your Free Villa Nights (FVNs).
Who can use FVNs?
Members and their spouse and qualified dependents (unmarried children who are 25 years old or below)
Your guests, as long as they are accompanied by yourself, your spouse, or any of your qualified dependents on the first two nights of their stay. Your guests may use your FVNs on the 3rd and succeeding nights unaccompanied.
Your qualified dependents can use your consumables too! Diamond and Platinum Members can also transfer consumables between assignees/nominees provided they are related (immediate family or siblings of the Member). Just present your Membership ID or any valid ID when claiming consumables.
A few reminders
Member and Guest rates will apply once your FVNs are consumed within your anniversary cycle.
Our current villa rates (VAT-inclusive)* per night are:

Diamond, Platinum, Corporate Membership: Php 13,440
Gold Membership: Php 26,640
Guest Rate: Php 35,840

Member's airfare rate applies to your spouse and qualified dependents too. Current airfare rates (VAT-inclusive)* are:

Member: Php 5,600
Guest: Php 12,320

*Subject to change without prior notice
Leasing out or selling of room entitlements is strictly prohibited and will result in immediate expulsion from the Club.
Book your next stay using your FVNs and consumables before they expire on your Membership anniversary date. Feel free to update your and your family's contact details with us through the following contact details:
E: membership@balesin.com | reservations@balesin.com | balesinislandclub@alphaland.com.ph
T: +63.2.5337.2031 loc. 157, 171, 227 (Membership Department)
T: +63.2.5337.2055 (Reservations Department)
Thank you very much for your continuous patronage of Balesin Island Club.
We look forward to welcoming you and more of your loved ones back to your island home!
Sincerely,
Membership Department