'Exclusive' sanctuary in Balesin
06/23/2018 | By: Tessa Prieto-Valdes, Inquirer Lifestyle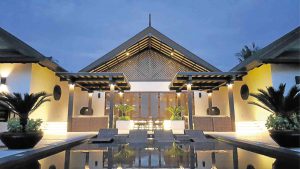 There's still time to catch the last days of summer and enjoy one of the 7,000 islands in the Philippines. With its unique seascape and landscape, Balesin Island is one of the most beautiful of these islands.

Balesin Island Club is an exclusive, world-class island resort off the east coast of the Philippines, for members only.

The flagship project of Alphaland Corp., Balesin Island sits in the Pacific Ocean, 35 kilometers off the eastern coast of Luzon. It is 20 minutes away from Manila, via Alphaland's private fleet of airplanes, which are boarded at Alphaland's private terminal.

Balesin Island is about 500 ha in size, of which less than 40 ha (about 8 percent) will be developed. Majority of the island is an undisturbed, original tropical rainforest. The island is ringed by more than seven kilometers of white sand beach.

There are new jewels on the island—The Balesin Private Villas. These villas come in different structures: the eight-bedroom and four-bedroom units, both of which have Pan Asian architectural style.

These villas are slightly smaller versions of the Balesin Royal Villa with a unique charm on their own. Each villa houses eight or four bedrooms and provides its own private beach, a stunning view of the Lamon Bay and the perfect location to watch the sunset. These are located between the Bali and Mykonos Villages and are about five minutes away from the clubhouse.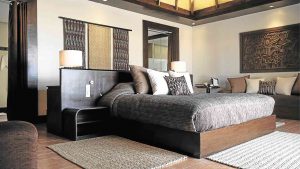 Enjoy luxury accommodation at Balesin Private Villas.


The eight-bedroom unit sits on a 6,000 sqm lot and on its main floor, there is an airy salon with lush indoor greenscape, a library, an office, and a fully equipped kitchen. On its lower ground floor, there is a karaoke room, a bar for late-night cocktails, and a lounging area where you can play billiards with your friends. Outside the villa is a remarkable 400 sqm infinity freshwater swimming pool with integrated saltwater whirlpool.
By the private white sand beach are four cabanas: two dedicated to dining, one for open-air massages, and the other for leisurely lounging.
The four-bedroom unit, which is built on a 2,000 sqm lot, houses the library, office, dining area, kitchen, and salon on the main floor. On its second floor, we have the entertainment area (karaoke room, bar, billiards, mahjong), viewing deck and two bedrooms. By the private white-sand beach are two dining cabanas and a fabulous infinity freshwater swimming pool with integrated saltwater whirlpool.
The Balesin Private Villas can be the perfect venue for families and friends to relax and reconnect in low-key luxury. Gather the whole family or your friends to enjoy the luxurious accommodation, laid-back luxury and stunning beachfront views in the latest masterpiece, the Balesin Private Villas.
Apart from the private villas, other additional attractions include the Balesin Playground, Pony Paddock and Balesin Mark's Steakhouse. Named after its Executive Chef Mark Biddle, the steakhouse is the newest dining attraction. Located in the Clubhouse, this ranch-inspired restaurant with its booth-style tables is perfect for family lunches, dinners, and intimate gatherings. With savory starters such as Balesin Seafood Chowder, delectable gourmet burgers and main courses such as USDA Certified Angus Beef Tomahawk Steak, this restaurant is a fine addition to the varied dining options on the island.
For inquiries, tours, and reservations, please contact Ms. Evans Ramos, Asst. GM for Operations, at 09171249459 or
meramos@alphaland.com.ph
.
Link:
https://business.inquirer.net/252901/exclusive-sanctuary-balesin